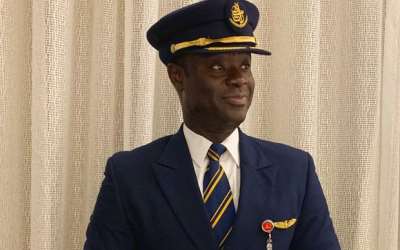 3G Media Group has announced Captain Solomon Quainoo will be honored on November 23 at its award ceremony.
Solomon Quainoo is an airline captain flying the biggest passenger aircraft, Airbus A380 with Emirates Airlines.
Mr. Quainoo was in 2018 selected to be the captain of the,first A380 flight to Ghana. This was the biggest aviation event in Africa in 2018 causing him to become a national and continental hero for Ghana and the whole of Africa.
As a pilot by profession, Captain Quainoo has flown aircrafts including, Embraer 135/145; Boeing 737-300, 400, 500; Airbus A319, A320, A321, A330-200, A340-300, A340-500 and currently flying the A380-800. He has also worked as an instructor, operating all the British Airways simulators including, A320 family, B737 family, B757/B767 family, B777 family and B747 family. He was part of the British Airways customer first team, instructing on its mobile simulators on air shows around the United Kingdom.
Captain Quainoo currently owns two new logistics companies in Ghana and is poised to extend his influence in Ghana and worldwide. He is an Executive Director of Go Africa a company growing its business of processing and exporting from Ghana, and the wider West Africa, agricultural products such as cashews, peanuts, cocoa, coffee and other local produce.
He is also an advisory director of OAIDA international, a non-profit organization that provides award-winning education and experiential programs via videoconferencing that takes learning beyond the four walls of a school building.
This year's event will be held on Saturday, November 23rd, 2019 starting 9pm. The venue is; REPLIB Banquet Hall, 4132 Park Avenue, Bronx, NY, 10457. The event dubbed; "A Night of Heroes" recognizes the sacrifice and dedication of the leading trailblazers of the greater Ghanaian and Global communities.
Past honorees of the 3G Awards Gala have included; Captain Smart, Kofi Adomah Wanwani, Emelia Brobbey, Counsellor Lutterodt, Hollywood Actor Abraham Attah; Former New York Senator, Hassel-Smith, Boxing Legend; Michael Spinks, Hon Kennedy Ohene-Agyapong, MP, Tommy Smythe, ESPN's Sports Presenter/Analyst; Boxing legend, Azuma Nelson; Dr. Akwasi Appiah; The Black Stars' Captain, Asamoah Gyan; and many others.
An Alumnus of University of Ghana for his undergraduate Bachelor of science (BSc) majoring in Mathematics and Physics and has a Master's in Engineering (MEng) in Aerospace engineering at Kingston University in the United Kingdom. He was trained at Oxford Aviation for his airline pilot qualification becoming one of the best students of his course.
Captain Quainoo is also in the process of setting up a foundation to help the youth from underprivileged background to help achieve their dreams and aspirations. He is inviting all his former classmates and friends to join him receive his award on November 23.
Source: 3G Media Group